About this entry
You're currently reading "Guy R. Beining | Out of the Woods into the Sun," an entry on Kaminipress
Published:

09.12.11 / 9f m
Category:
Guy R. Beining | Out of the Woods into the Sun
Guy R. Beining was born in 1938 in London and arrived in New York City in the spring of 1940. He currently resides in Great Barrington, Massachusetts and has published thousands of poems along with hundreds of collages and drawings. His most recent exhibition was at the Hudson Opera House in Hudson, New York in 2010 and his collection of art paired with beautifully worded lines to accompany them has been published by Kamini Press in this collection titled Out of the Woods into the Sun.
The collection of paintings are carefully and vividly reflected throughout the pages of this small book in my hands: Inside, the people are abstract and interacting with one another while the words beneath link humanity to nature with lines such as "the lake on the sun was unwrinkled" and "between you & me the sea is us." I'll admit that I do not always understand how the words beneath each painting relate to the painting but it is inspiring and beautiful nonetheless. Through the entire collection I gather a sense of excitement and mystery and I am happy to share with you a couple of pictures of the contents:The pictures do not do this collection justice but I hope that you enjoy the art and the words together. Mr. Beining has dedicated this book "To all poets & artists that have stayed on track," which I find a wonderful dedication and hope that all of you out there continue to pursue what inspires you.
If you enjoyed this review and would like a copy for yourself, there are signed copies available from editor Henry Denander at Kamini Press for $10.00 and those that include limited edition artwork are available for $25.00.– Paula Cary

My initial impression: the Kamini Press has done it again. There productions in color and the laid paper are fine selections again.This small chap book is a gem, again.
Beinings art work combines figurative, narrative and metaphor, "memory is a branch" and the immediacy in the painting strokes depicts an abstract sensibility, as well as, the gestural drawing offers an expressive attitude. Viewers will find a painting on every page, with a poetic sentence below. "the shoreline pretends to be an ointment." The juxtapositions are immaculate; poetry and painting works in this book because the words redirect the reader back into the paintings and the tension between the images and the words draw us into the presence on the page.
I highly recommend this book for those who love art and writing.
Irene Koronas, Poetry Editor:Wilderness House Literary Review. Reviewer:Ibbetson Street Press
will know already how much I like the high production values of the Kamini Press mini-chapbooks. Out of the Woods marks a break from the poetry series publisher/ editor Henry Denander has been running for a while now on the Kamini imprint, in that it showcases 16 fine paintings instead of works by poets of the underground/ alternative press. Each painting is tagged, as it were, with a line of poetry by Beining, who also writes, and the lines provide clues, albeit in an abstruse, apparently illogical, koan-like fashion at times, to the paintings. I found this helpful, not being particularly confident about my understanding of Beining's approach, which seems to present people as shapes and areas of dynamic colour rather than in conventional form. You, of course, might understand what he is doing immediately. In any event I am sure that you will appreciate the impact of the paintings, as I did; and I argue all the time that a creative work doesn't have to be one hundred percent accessible to the individual reader/ listener/ viewer to be a success.
Out of the Woods into the Sun
Guy R. Beining
We are proud to publish the artwork of Guy Beining as the first book in our Kamini Press Art Series. Beining, who lives in Great Barrington, Massachusetts, is very active as an artist and also a much published poet. We have been following Beining's art for many years, admiring his strong and personal style in drawings, paintings and collages. Here we are presenting 16 new acrylic paintings.
The limited edition of the book includes an original signed acrylic drawing by Beining, a fine opportunity to get a highly frameable piece of Beining art.
Here at Kamini Press we are very proud to present the first chapbook in our Art series Out of the Woods into the Sun by Guy R. Beining 16 new paintings reproduced in full color.
All 125 books signed by the artist. Twenty-five special numbered copies come with a signed acrylic drawing by Guy R. Beining. Mini-chapbook format, in wraps. Portrait by Henry Denander.
[quickshop:Guy R. Beining – Out of the Woods into the Sun – Signed edition:price:10:shipping:0:shipping2:0:end]Signed edition $10 (including shipping all over the world)
[quickshop:Guy R. Beining – Out of the Woods into the Sun – Limited edition with artwork:price:25:shipping:0:shipping2:0:end]Limited edition with artwork $25 (including shipping all over the world)
Please Note: After hitting the Add to the Kamini Cart button you will find your shopping-cart at the very end of this page.
In Sweden, please pay SEK 60 per book to Bankgiro 5889-0781, price including postage. 150 SEK for the limited version. Email to reserve. Please ask for a PayPal invoice if you need that.
Kamini Press | Ringvägen 8, 4th floor | SE-117 26 Stockholm, Sweden | editor@kaminipress.com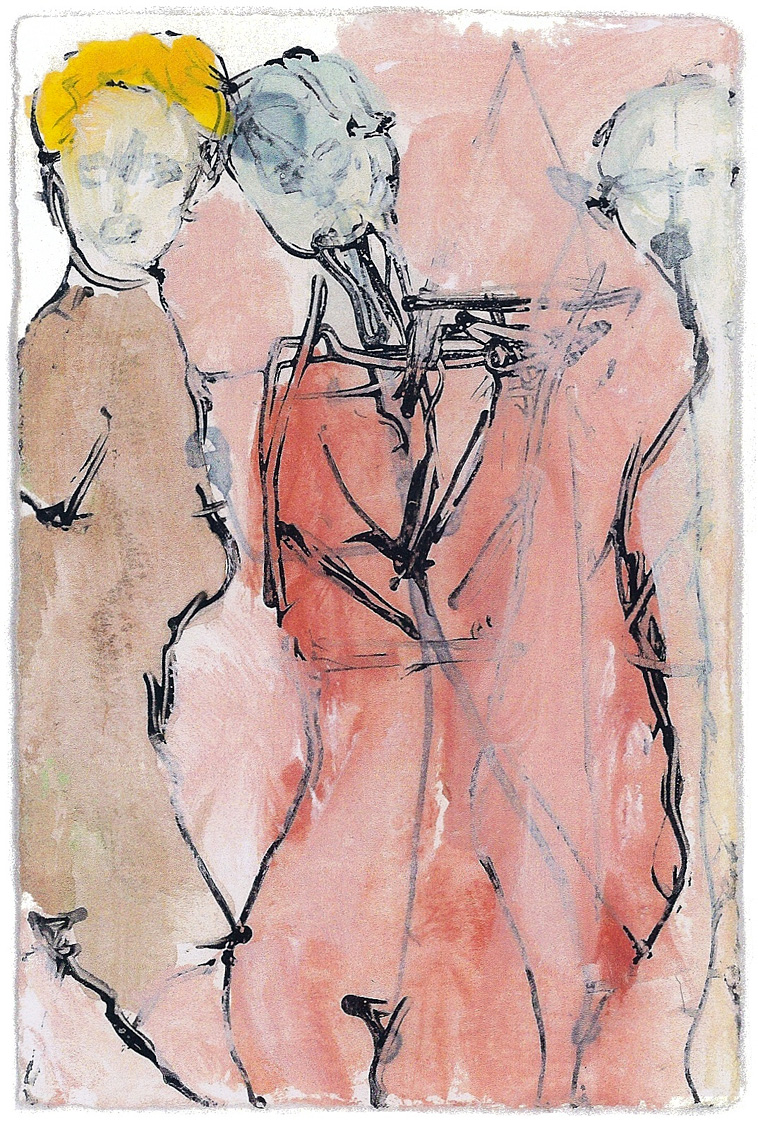 …one of the paintings from this book by Guy R. Beining.
Selected titles by Guy R. Beining:
Razor with No Obligation (1976)
City Shingles (1977)
The Ogden Diary (1979)
Backroads & Artism (1979)
Ice Rescue Station (1980)
A New Boundary & Other Pieces (1980)
Waiting for the Soothsayer (1982)
The Raw-Robed Few (1982)
Stoma: All Points & Notions (1984)
Stoma (1989)
Upper & Lower Translation of Beige Copy Text (1991)
100 Haiku Selected from a Decade (1993)
Damn the Evening Garden (1994)
Too Far to Hear (1994)
Stoma (1994)
Curved Erosion (1995)
Axiom of a Torn Pulley (1995)
Too Far to Hear II (1997)
Beige Copy II & III (1997)
Inrue (2008)
World Pig 1-34 (2010)
Nozzle 1-36 (2011)